The "Events" category of the Tokyo Shitamachi Guide features limited-time events in the Shitamachi area of Tokyo, which is the area along and east of the Sumida River. Each time, we suggest a fascinating event to add to your Tokyo sightseeing experience.
In this blog post, we will discuss Asakusa Hatsuka Ebisu, one of the New Year's events held at Asakusa Shrine, a Shinto shrine in Tokyo's Taito Ward.
Asakusa Shrine enshrines Ebisu, one of the Seven Lucky Gods in Japan. Asakusa Hatsuka Ebisu commemorates the first Ebisu Day of the year. It is believed that praying to Ebisu on this day will establish a strong connection with this deity.
Asakusa Shrine holds Asakusa Hatsuka Ebisu over two days, January 19th and 20th. This is because January 20th is the first Ebisu day of the year in the Kanto region, which includes Tokyo. In Japan, "the 20th day of a month" is referred to as "hatsuka." The name Asakusa Hatsuka Ebisu comes from this.
I attended Asakusa Hatsuka Ebisu at Asakusa Shrine on January 20th. And I will be sharing my experience in this blog post. If you're planning a visit to Tokyo's Shitamachi area, especially the Asakusa area, be sure to read this blog post for sightseeing tips.
This blog post is also available in Japanese, which can be found at the following link:
About Asakusa Hatsuka Ebisu
Ebisu, Who Is It?
Ebisu is a member of the Seven Lucky Gods in Japan and is also the deity of prosperity and wealth. He is usually depicted as a smiling, bearded man with a fishing rod and a red sea bream in his hands.
The major divine virtues of Ebisu are as follows:
Good catch
Prosperous business
Household safety
etc.
Ebisu at Asakusa Shrine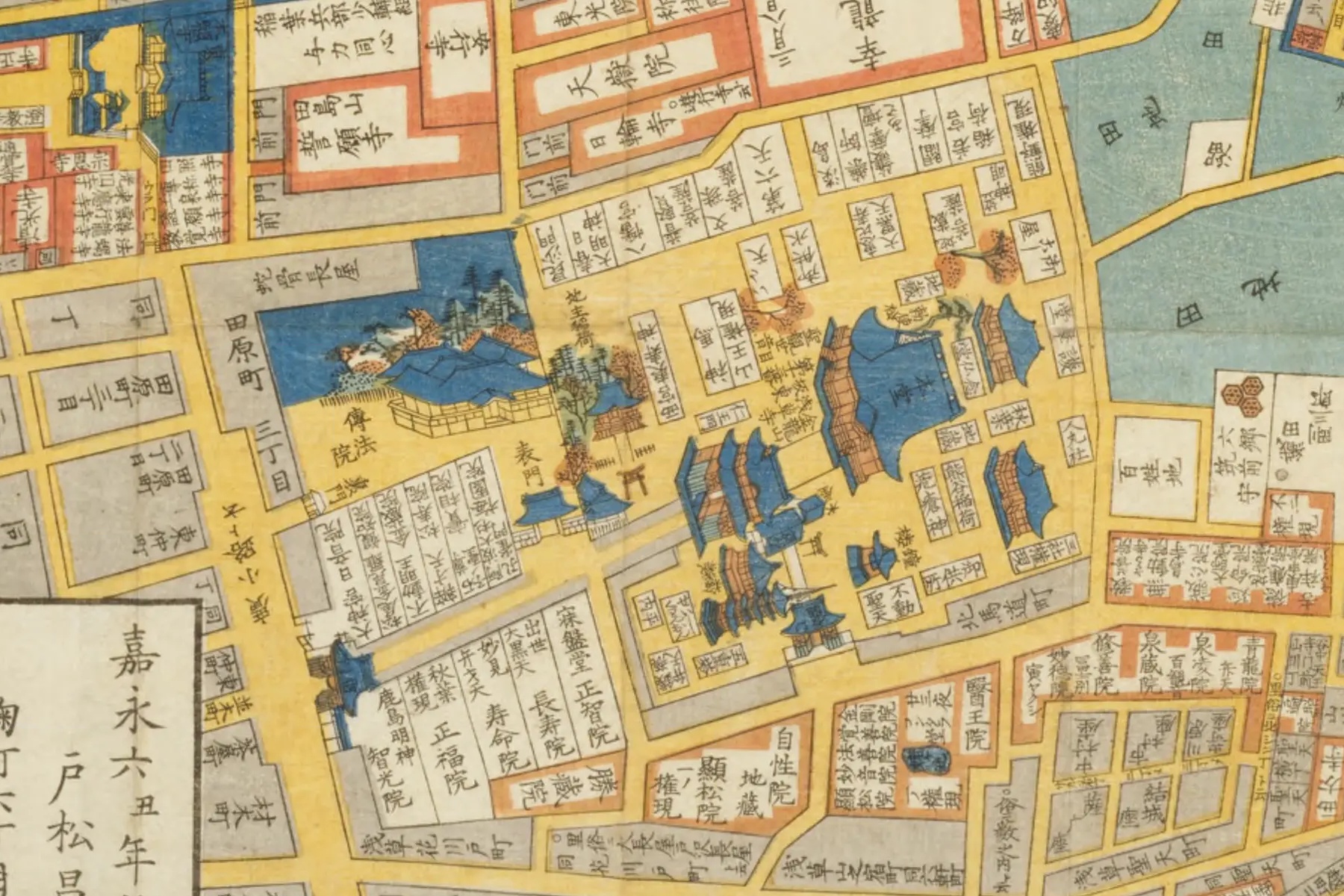 According to Asakusa Shrine, its Ebisu was originally enshrined in Sensoji Temple, the neighboring Buddhist temple.
If you look at the map of Sensoji Temple from the 18th century, you can find Nishinomiya-Ebisu near Hozomon Gate of the temple.
Nishinomiya refers to Nishinomiya Shrine in Hyogo Prefecture. This Shinto shrine is the head of shrines that enshrine Ebisu in Japan.
In 1868, the Meiji government issued the Shinbutsu Bunri policy. This policy clearly distinguishes between Shintoism and Buddhism, Shinto deities and Buddhist deities, and Shinto shrines and Buddhist temples.
Because of this policy, Sensoji Temple transferred the ownership of Ebisu to Asakusa Shrine. At that time, Asakusa Shrine enshrined Ebisu at a small shrine near Kagura-Den Hall. But the Bombing of Tokyo in 1945 destroyed this small shrine.
Asakusa Hatsuka Abisu
Asakusa Hatsuka Ebisu commemorates the first Ebisu day of the year. We believe that if you visit and pray for Ebisu on this day, you can connect strongly to this deity.
Asakusa Shrine holds Asakusa Hatsuka Ebisu on January 19 and 20 every year. They call January 19 "Yoi Ebisu" (the previous Ebisu day). And they also call January 20 "Hon Ebisu" (the main Ebisu day).
Similar to Hatsuka Ebisu, there is another event called Toka Ebisu. The word "Toka" means "the 10th day of a month" in English. January 10 is the first Ebisu day of the year in the Kansai region (the area in and around Osaka).
Event Dates
Asakusa Hatsuka Ebisu 2023
Date: January 19th (Thu.) and 20th (Fri.)
Time: From 9 a.m. to 5 p.m.
Asakusa Hatsuka Ebisu 2024 (Expected Date)
Date: January 19th (Fri.) and 20th (Sat.)
Time: From 9 a.m. to 5 p.m.
Our Thoughts
This time, I headed to Asakusa Shrine around 1 p.m. on January 20. Although around 10 people were waiting in line in front of me, I didn't think it was that crowded.
Asakusa Shrine offered special designs of goshuin (a handwritten certificate of worship) for Asakusa Hatsuka Ebisu. Moreover, the design is slightly different between January 19 and 20.
Regarding the limited design of goshuin, Asakusa Shrine requested worshippers meet two conditions. You need to bring your goshuin-cho (a stamp book for goshuin) and you can purchase one goshuin per person.
Asakusa Shrine had problems because some people were purchasing limited designs of goshuin to resell online. The shrine's requests would be a countermeasure to that.
After worshipping at Asakusa Shrine, I stopped by Hikan Inari Shrine, which is located in the precincts of Asakusa Shrine. Last year, I made a New Year's resolution at Hikan Inari Shrine. As my wish came true, I wanted to report it and thank the shrine.
By the way, the blog post about Hikan Inari Shrine on this website is very popular. It constantly attracts a large number of visitors. I guess this Shinto shrine is much more popular than I thought.

For more details about Hikan Inari Shrine, please refer to the blog post below:
On the way back from Hikan Inari Shrine, I saw three Mikoshi, portable Shinto shrines, for Sanja Matsuri Festival. Sanja Matsuri is Asakusa Shrine's annual festival, which attracts over 2 million visitors every year.
As I learned this time, Asakusa Shrine opens the three mikoshi to the public during the New Year season, in addition to weekends and holidays in early spring.
Lastly, I visited Meoto Komainu (a pair of guardian dogs) next to the main Tori Gate of Asakusa Shrine. The shrine claims that they will bring you divine virtues such as matchmaking, fulfillment in love, and marital harmony.
Related Blog Posts